It Is Coppelia, But A Bit Different
See NL spoke to the creators of Coppelia, ahead of Annecy 2021
Amsterdam-based Submarine and 3 Minutes West's dynamic take on Hoffmann's classic story that still presents the blossoming romance of Swan and Franz, but this time the dastardly Dr Coppelius (no longer a toy maker, now a cosmetic surgeon) has upped his game. The beautiful, eponymous vision of loveliness he sends out into the world to trouble the minds of the star-crossed lovers is pure CGI, as are his personal (and terrifying) gang of leggy, bob-haired stormtroopers who do his bidding.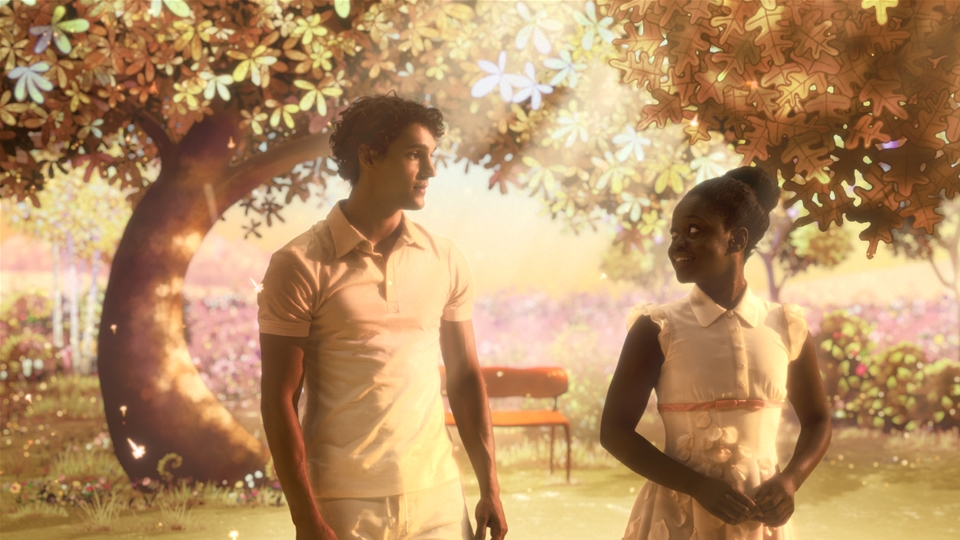 What is more, the dilemma that Coppelius' sophistry plants within the minds of the townspeople is very much a 21st Century one, that of self-worth, particularly when viewed through the prism of our image conscious culture. Superficial beauty is not everything, true beauty comes from within and diversity is something to be celebrated, is the film's underlying message.
Coppelia, as presented in this live-action / 2D / 3D, is a film in which movement, grace and form replace dialogue, in which dance itself becomes language. Directed by Jeff Tudor, Steven De Beul and Ben Tesseur, the production features the dancers of the Dutch National Ballet, as well as global icons such as Darcey Bussell and Irek Mukhamedov. The choreography was created in collaboration with the renowned Dutch choreographer Ted Brandsen.
Award-winning London-based composer Maurizio Malagnini was commissioned to write a new score, one that is both orchestral and electronic in creating a vibrant and dramatic soundscape that drives the dance and CG-action on screen.
"It was very important to us to have a film score rather than a ballet score," the directors state collectively. "We wanted the viewer to have a familiar response to what they were hearing, the score should sound like a film – expressive, emotive, ambient. Compared to the original music for the 150-year old ballet 'Coppelia', our score is a much stronger story-telling element, supporting the action and emotions. We also use a broader range of music and instruments than in the original stage ballet, mixing electronic and classical sounds, and using these to develop specific themes for certain characters and emotions."
In the film, safety, joy and harmony is found within the realm of the human, whereas conflict and discord is rooted more within the realm of the fantastical. As the discombobulated villagers look in their mirrors, they are duped into seeing idealised versions of themselves, rendered so by animation. On the flip side, as the CG automaton Coppelia begins to understand and experience the concept of love, she fleetingly (and very movingly) assumes recognisable and real human form.
"The animation of the townspeople supports the allegorical idea that they sell their souls to the Doctor: when he performs his 'treatment' on them, he tricks them into believing they have been transformed," the directors underline. "They think they see a new version of themselves reflected in the mirror, but actually it is a trick, like a Snapchat filter. The Doctor's treatment is just a ruse for the Doctor to extract the 'essence' from the townspeople's characters, leaving them vain and self-obsessed. On one hand we have the organic world of Swan and her friends. Even though Swan's environment is recognisable, it is a world filled with music and dance, where people interact in a different way to how we act in real life," they continue.
"CG allowed us to create a world for Swan that is quirky, with an illustrated feel. On the other hand, we have the cold, sleek world of Doctor Coppelius, and CG enabled us to create a huge scale clinic for the Doctor."
There is a genuine thrill in seeing humans perform their exquisite ballet within a mesmeric animated setting, in which props and locations can be real or computer generated. The experience is both elevating and highly cinematic, and reminiscent of some of the classic films of our youth.
"When I was a child, I loved films that mixed live-action and animation," agrees co-director Jeff Tudor. "I found it magical, watching Gene Kelly dance with an animated character (Invitation to the Dance and Anchors Aweigh); Mary Poppins, stepping into an illustrated world that came to life; the children's adventures in Bedknobs and Broomsticks. It has always been stimulating for children when live-action characters explore animated worlds, and I hope we have recreated that magic for today's audience."
For more information on Annecy, click here.
For more information on Submarine, click here.
_______________________________________________________________________________________________________________
Coppelia is supported by the Netherlands Film Fund and Film Production Incentive - Animation.