Netherlands Film Festival: Silvia van der Heiden & Sterre de Jong
Interview by Geoffrey Macnab
Netherlands Film Festival Director Silvia van der Heiden and Sterre de Jong, Head of NFF Professionals and Talent, talk to SEE NL.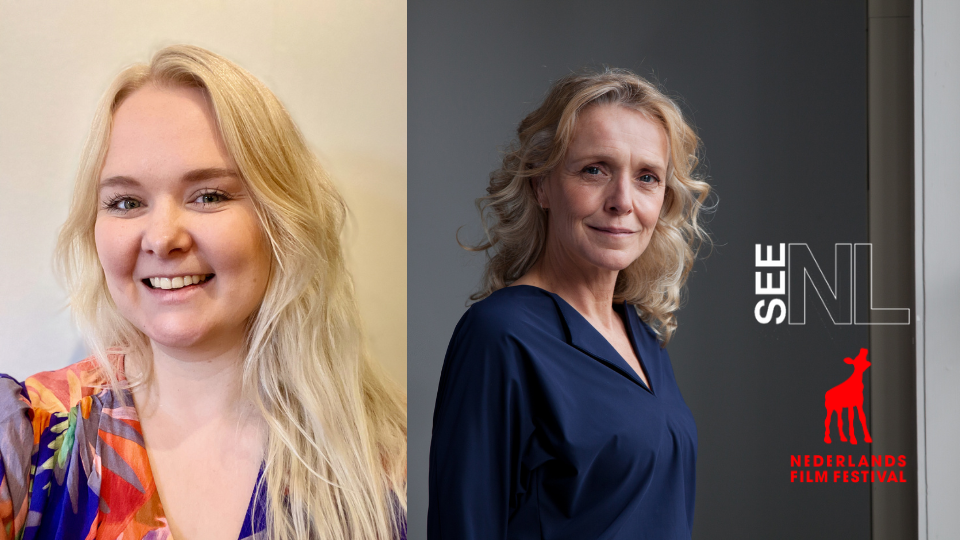 Left: Sterre de Jong, right: Silvia van der Heiden
Silvia van der Heiden and Sterre de Jong might best be described as comrades in arms. The former is the director of the Netherlands Film Festival and the latter is head of its industry arm, NFF Professionals and Talent. As the dynamic duo explain on the eve of this year's event, which runs 22-29 September, they work completely in tandem.
"It is one of the most natural symbioses you can have. The Netherlands Film Festival does not exist without the industry, and it works the other way round. What strengthens both events is that they are synonymous with each other,"de Jong states. "We look at the entire infrastructure as a circle. We start at the beginning and invest in youth, watching film from an educational standpoint. Then you go into the talent programmes. You start developing your voice, your vision. You have your first film in the debut competition…you start presenting yourself internationally and at the end, hopefully, you receive your first Golden Calf," she details the trajectory that a young Dutch filmmaker might ideally be able to follow.
"It's quite organic at times,"agrees van der Heiden of the relationship between the festival and its industry sidebars. "Sterre and I talk all the time about the films we see and the projects that are interesting."
While the festival head describes this year's edition as "the first normal festival" since the pandemic, de Jong observes that NFF will "never go back to the event that it used to be in essence because we have evolved."
That said, certain online initiatives from the pandemic period have been retained. Together with other Dutch festivals, NFF makes some of its programme available to stream, especially shorts, and presents certain titles outside of the festival period. Also, the Digital Film Library provides online international guests with the possibility to watch titles from this year's festival edition with English subtitles.
De Jong laughs ruefully as she looks back on the painstaking selection process for this year's Holland Film Meeting. In the end, 19 projects were selected for the New Dutch, Stories & Beyond and Boost NL programmes - but many more than that were submitted. This year, 40 international guests have been invited to meet the filmmakers and to cast their trained eye over the best new Dutch and Flemish documentaries and dramas.
In this post-Covid era, organizers are determined for the event to keep its carbon footprint down. Where possible, international visitors will now travel to Utrecht by train, not plane.
"What we definitely noticed over the past couple of years is that people are once again discovering the HFM and how it can benefit them,"de Jong reflects on the heightened interest in the event. "The level of quality has definitely gone up."
Many leading Dutch production companies did not send in "one project, but several," another sign that the event's prestige is growing. "It's very hands-on. It's also a summer programme where you are very involved in your own development and the development of the story," de Jong underlines. "We are finding established directors, and established producers are finding us again after being not present for a number of years."
Well-known figures taking part include figures like producers Annemiek van Gorp and René Goossens (De Productie) who will be in Utrecht with their latest feature project Alles Komt Goed, directed by Marcel Visbeen.
Emjay Rechsteiner (Staccato Films), who was behind James Bond director Lee Tamahori's Sadaam Hussein project The Devil's Double, will also be in town with his new project Boni, directed by Edson da Conceiçao and Timo Ottevanger. This is being put together as a Dutch/Belgian/Surinamese co-production and deals with Dutch-Caribbean relationships.
De Jong speculates that the reason established names are clamouring to come to HFM is that they've received feedback from previous participants who've told them about "the hands-on, tailor-made trajectory" that the event can give a new film.
" see a lot of filmmakers that are often not yet represented in mainstream filmmaking who are using the HFM really to strengthen their voices," de Jong says, citing Abdelkarim El-Fassi's Porte Bagage, produced by Rotterdam-based outfit Zouka, which concerns a dysfunctional family on a road trip in an old van to Morocco to bring their father back home. "It's a film about elderly care for immigrants in the Netherlands, a topic that is not very heavily featured in mainstream Dutch cinema," the HFM boss notes.
She also points to Her Name Was Laboni, produced by Loretta van der Horst, in which documentary photojournalist Claudio Montesano Casillas retraces the life of a victim of the infamous 2013 Rana Plaza collapse in Bangladesh.
"There are a lot of projects that have expanded the scope of what Dutch cinema is," de Jong notes of a new wave of films exploring the legacy of the Dutch colonial era.
This is a subject confronted head on in the opening film of the Netherlands Film Festival, Sweet Dreams, directed by Ena Sendijarević. A period drama set on a remote Indonesian island where a Dutch-owned sugar plantation is in its dying throes, the film is made in its director's trademark style combining surrealism and deadpan humour.
"I really appreciate the absurdist view she takes on situations," festival director van der Heiden says of how Sendijarević's second feature (which had its world premiere in Locarno in August and its US premiere at TIFF in September) deals with Dutch colonial history. Van der Heiden believes the film will have extra resonance for local audiences following remarks made by the Dutch King Willem-Alexander seeking to apologise for Dutch involvement in the slave trade.
Another film touching on the vexed legacy of colonialism (and described as "really special" by the festival director) is the documentary The President's Daughter & The Richest Freeborn Lady directed by Mildred Roethof. This follows veteran writer and historian Cynthia McLeod as she investigates the story of the first black female millionaire in Surinam, Elisabeth Samson.
On the industry side, international veterans visiting Utrecht to share their expertise include Emmy award winning sound designer Paula Fairfield (best known for Game of Thrones), writer/director air Felix van Groeningen and Charlotte Vandermeersch (The Eight Mountains) and editor Eddie Hamilton (who has worked on everything from Kick-Ass to Top Gun: Maverick). All will give masterclasses, as will Ena Sendijarević.
"That's when you see people really intrigued by the story behind the filmmakers," van der Heiden enthuses of the masterclasses which are always among the highlights of the festival week.
The Netherlands Film Festival takes place from 22 - 29 September 2023.