Sweet Dreams: interview with Renée Soutendijk
The great Dutch actress discusses her award-winning role in Ena Sendijarevic's Sweet Dreams, chosen as the Dutch Oscar contender, with Geoffrey Macnab. The film premiered at Locarno and Toronto and also opens the 2023 Netherlands Film Festival.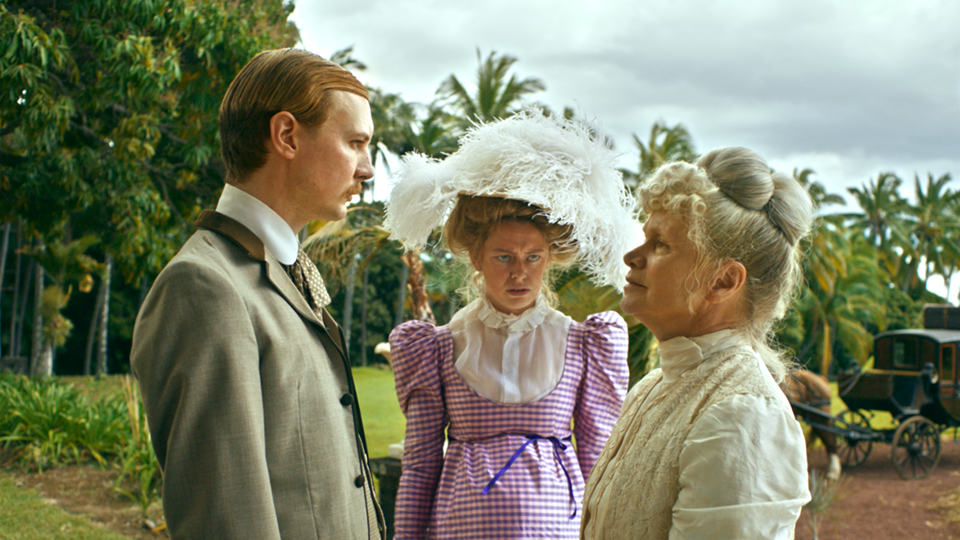 Florian Myjer, Lisa Zweerman & Renée Soutendijk in Sweet Dreams - still by Emo Weemhoff
Over the course of her 48-year career, leading theatre, film and TV star Renee Soutendijk has racked up credits ranging from Paul Verhoeven's early films to Luca Guadagnino's Suspiria (2018). She is also a former Olympic gymnast. "It was a long, long time ago. I stopped when I was 14," she modestly dismisses her glittering sporting career, although she acknowledges that gymnastics gave her discipline and a strong work ethic.
A near legendary figure in Dutch cinema, Soutendijk gives another formidable performance (one that has already won her a Best Performance award in Locarno) as Agathe, the matriarch in Ena Sendijarevic's second feature Sweet Dreams. The film opens the 2023 Netherlands Film Festival and was recently chosen as the Netherlands' Oscar contender.
This is a drama set on a Dutch colonial sugar plantation where everything is about to fall apart. "I got the script from Ena and I was immediately intrigued by the whole style and ideas behind it. She writes scripts that are very detailed in all possible ways," Soutendijk says admiringly of the brilliant young Bosnian-Dutch writer-director.
The actress admired the "sadistic humour" in the screenplay. When she first met Sendijarevic and did a screen test, "it immediately clicked. We had the same idea about films that we liked and that would maybe come close to this style of filmmaking." (Both loved "absurdist" movies from the Coen brothers, Ruben Ostlund and Yorgos Lanthimos among others).
Sweet Dreams had a troubled gestation and was delayed by Covid. "It was very, very hard and the film was postponed many times," Soutendijk recalls. One upside was that this left plenty of time for rehearsal.
Sendijarevic is a very precise director who knows exactly what she wants but Soutendijk found it liberating to work with her. The rehearsals meant everyone knew what was required.
The director deliberately changed the way scenes were shot. Sometimes they would be done with no emotion at all but then they would be performed in an extravagant, self-consciously theatrical style. The actors, Soutendijk believes, were giving her many different shades with which she could work during editing.
Rather than shooting in Indonesia as originally planned, the production eventually moved to Réunion instead. "It had all the things that we needed. There were the sugar cane plantations. There were the old colonial houses, the jungle, the waterfalls… everything was there!"
Another advantage was the climate. Réunion wasn't blisteringly hot. "It was 21 or 22 degrees, very comfortable." Soutendijk says. There was a good atmosphere on set, and the cast and crew were all determined to "make the best film possible."
"I found it very inspiring, this whole younger crowd - a new generation of filmmakers. I felt we were one big family making it together," Soutendijk adds.
Agathe is a haughty and snobbish figure who treats the locals with contempt. "My character, of course she is monstrous but on the other hand I felt pity for her too because she is so lonely and so isolated. Especially at the end, the way she tries to keep things the way she likes to have them, it creates almost…sympathy. The humour in it, especially with the Dutch characters, keeps it from being very unsympathetic."
Soutendijk believes that Sendijarevic is offering a "helicopter view" of the world of colonial sugar plantations. It's as if she is looking down from a high distance at "these strange creatures trying to find their way and trying to survive. In a way, no-one does really. There are only losers in this film."
Some commentators have linked the film to remarks made by the Dutch King Willem-Alexander apologizing for the Dutch role in slavery. However, Soutendijk doesn't see Sweet Dreams as an earnest historical drama looking at colonial guilt. It is more subtle and subversive than that. "What she [Sendijarevic] has chosen to do is to emphasize the banality of evil with a satirical touch," the actress suggests. "I have a feeling that the film will make a bridge to a younger audience."
Sweet Dreams is written and directed by Ena Sendijarević, produced by Lemming Film (NL), in co-production with Plattform Produktion (SE), Film Ï Vast (SE), Talamedia (ID) in collaboration with TikTak Productions and broadcaster VPRO (NL). The film is supported by the Netherlands Film Fund, Netherlands Film Production Incentive, CoBo Fund, Swedish Film Institute, La Région Réunion, CNC Tax Rebate International Productions and Creative Europe Media. Heretic are handling international sales.